Reali Homes Review: How Does It Rank Among Trade-In Services?
Written by Jon Stubbs
February 22nd, 2023
12 minute read
⛔️ Reali is no longer available: On August 24, 2022, Reali announced it was suspending operations and no longer accepting new customers. Check out our trade-in services and power buyers guide to find similar services available near you. Or consider alternative options, like Clever Real Estate (our top pick!), who can match you with top local realtors and help you save thousands on both your home sale and purchase.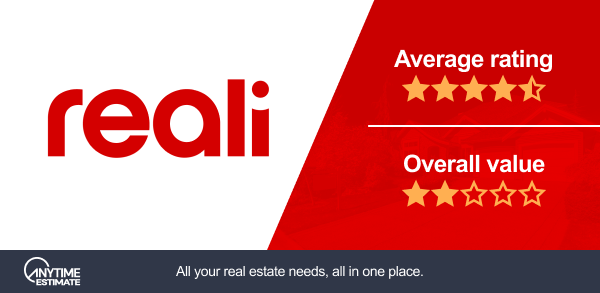 Reali reviews | Reali vs. the competition | Who should use Reali? | Is Reali Legit? | Where does Reali operate? | How does Reali work? | How much does Reali cost? | Reali Loans | FAQs
Reali's Buy Before You Sell service may be a convenient option if you live in California and you want to buy a new home before you sell your current one. Like other home trade-in services, Reali makes financing your new home easier by giving you cash up front to help you move before you sell your old home.
However, Reali falls short of the competition with numerous bad reviews from customers and hidden fees that could cause you to pay a lot more than you expected. In fact, if you need to trade in your home outside of California, Reali won't be an option for you at all.
We recommend other services in California like Flyhomes and Knock over Reali for trading in a home or securing a cash offer to buy a new home. These companies have more positive reviews, more transparent fees, and a lower overall cost.
If you just want to buy or sell a home, you can work with Reali's in-house agents. You can also get a mortgage or refinance through Reali Loans, which is available in Arizona, California, Colorado, Texas, and Washington.
If you do decide to buy and sell with Reali, be aware that there's a good chance you'll need to do a lot of the legwork yourself — more than a few reviews are from customers complaining about poor communication.
» JUMP: Find out how Reali works
Reali vs. the competition
Reali offers two main services: Buy Before You Sell and Cash Offer. These are only available in California. Reali charges 1% for this service, with a 0.5% rebate if you use its mortgage service, Reali Loans.
Reali's Buy Before You Sell is a home trade-in service that fronts you the money to make a cash offer on a new home before you have sold your old one. The leverage of a cash offer gives you a great chance to win the home. Once your old home sells, you can settle up with Reali and pay all of your fees from the proceeds of the sale.
For buyers who don't need to sell, Reali's Cash Offer helps strengthen their bid on a new home. Once the buyer wins the home, they buy the home from Reali using a mortgage.
Reali also has a Home Loans division, offering mortgages in Arizona, California, Colorado, Texas, and Washington.
Flyhomes costs less than Reali
| | Service fee | Rental cost | Average rating |
| --- | --- | --- | --- |
| | 1% (0% if you use its their mortgage) | $100–200/day | 4.9 |
| Reali | 1% (0.5% if you use its mortgage) | | 4.6 |
If you want a one-stop shop that provides agents along with home trade-in services, Flyhomes is a better choice than Reali:
Flyhomes has generally better customer reviews
If you use its mortgage lender, Flyhomes gives you a 1% rebate, effectively eliminating its 1% service fee.
Flyhomes will cover closing costs if you use a Flyhomes agent, which could add up to thousands in savings.
Knock allows you to use your own agent
| | Service fee | Rental cost | Average rating |
| --- | --- | --- | --- |
| | 1.25% + $1,450 | Market-based | 4.8 |
| Reali | 1% (0.5% if you use its mortgage) | | 4.6 |
If you are interested in using a home trade-in company but prefer to use your own agent to buy and/or sell, Knock is a better choice than Reali.
Knock has received positive reviews from customers.
Knock's service fee is 1.25% plus $1,450. This is more expensive than Reali's 1% fee, but Knock lets you use your own agent, which would more than make up for the higher fee.
Reali's costs can add up
Reali's 1% fee for its home trade-in program is comparable to its competitors' fees, and, like Flyhomes, the company offers a rebate if you use its mortgage service. But, the rebate is only 0.5%, versus 1% with Flyhomes.
Even worse, Reali's hidden costs can add up. Like most home trade-in services, Reali charges you rent to stay in the new home until your old home sells. Most services are upfront about their rental fees, but Reali is not, so it's an unknown cost, as some reviewers have pointed out.
Reali has stated only that its rental fee is "roughly equal to the mortgage payment." This means you'll have to pay the cost of two mortgages eventually, even if the cost is deferred until your old home sells.
❓Unknown rental fees
We tried contacting Reali for more information about their rental fees, but we couldn't get a response from the company.

According to Reali, there are other fees you'll be responsible for, as well:
Transfer fees
Closing costs
Seller's agent commission of 2.5%
Standard buyer's agent commission
» JUMP: See a breakdown of Reali's fees and compare with other home trade-in services.
Discount brokers can help you save more money
If you find a trade-in service that allows you to use your own agent (like Knock), you can possibly negotiate their commission to save some money. You can also take advantage of pre-negotiated agent commission by using a discount broker like our friends at Clever Real Estate.
Clever offers a free agent-matching service that partners 1.5% commission agents with home sellers. This could be a great way to save while still benefiting from the power of a cash offer from a home trade-in program.
» SAVE: List for just $3,000 or 1.5% or buy a home and get cash back!
Who should use Reali?
Reali Buy Before You Sell makes financing your new home easier by fronting the cash to help you move before you sell your old home.
While Reali's service works if you're in a situation where you need to buy before you sell, we don't recommend it. Reali doesn't offer any distinct advantages for home buyers and sellers that other competitors in California can't offer as well. Other services, such as Knock and Flyhomes, have more transparency about costs and better customer reviews.
Knock and Flyhomes offer the same services for about the same fee, and you could even eliminate that fee altogether if you go with Flyhomes and use its mortgage lending service.
Knock and Flyhomes also have perks and guarantees that Reali doesn't offer:
Knock will loan you up to $25,000 for listing prep for repairs and staging, deferred until the home sells.
Knock promises to buy your home from you at 80–85% of fair market value if the home doesn't sell within six months.
Flyhomes makes a similar promise: if your home doesn't sell after six months, you can choose to leave it listed or have the company buy your home.
Flyhomes also offers other guarantees, including a one-year guarantee where it'll list any home you buy from it for free if you move out within one year.
Flyhomes will let you back out of a purchase after the seller has already accepted the offer — it'll purchase the home instead.
Is Reali Legit?
Yes — Reali is a real estate brokerage and mortgage lender licensed in California. If you need to buy a new home before you sell your old one, Reali can help by fronting the cash for your new home and listing your old one after you move out.
Founded in 2015, Reali initially operated as a discount brokerage providing brokerage services for a flat fee instead of commission.[1] Its agents are now salaried, so they don't work for commission, but the company still charges the traditional 2.5% commission for their services.
In 2019, Reali pivoted to home trade-ins.[2] In April of that same year, the company acquired Lenda, a San Francisco-based mortgage startup, to further its goal of becoming an "end-to-end real estate experience."[3] Now called Reali Loans, the company's mortgage segment operates in five states.
The company raised $250 million in funding in 2021 for a total of $300 million overall since its founding.[4]
Where Does Reali Operate?
Reali Buy Before You Sell is only available for buyers and sellers in select markets in California:
San Francisco, CA
Sacramento, CA
Orange County, CA
Inland Empire, CA
Long Beach, CA
San Gabriel Valley, CA
For comparison, most other home trade-in companies are available in multiple states:
Reali Loans is more widely available, offering loans to homebuyers in Arizona, California, Colorado, Texas, and Washington.
Reali reviews from customers
After sourcing reviews from actual Reali customers, we found that Reali has an average rating of 4.6 across 637 reviews.
| Site | Average review |
| --- | --- |
| | 4.7 across 364 reviews |
| | 3.3 across 55 reviews |
| | 4.9 across 216 reviews |
| Weighted Avg. Rating | 4.6 across 637 reviews |
Although Reali has overall decent review ratings, once you begin digging into the comments, even the higher-scored reviews mention frustrations with the service. A common thread across all reviews for Reali — even the recent positive ones — is lack of communication from agents and reps at the company.
Reali has an A+ rating with the Better Business Bureau, but the only two reviews listed there are 1 of 5 stars.
Client was happy with service — after switching agents
It's important to consider that Reali agents are salaried and don't work for commission, so they might not always be as motivated to close a deal as an agent who heavily relies on their commission.
One homeowner was more than pleased with Reali, giving their overall experience five stars. But they still mentioned their original buyer's agent was not as helpful as they wanted when suggesting offer amounts for homes, and they only had a good experience once they requested a new agent.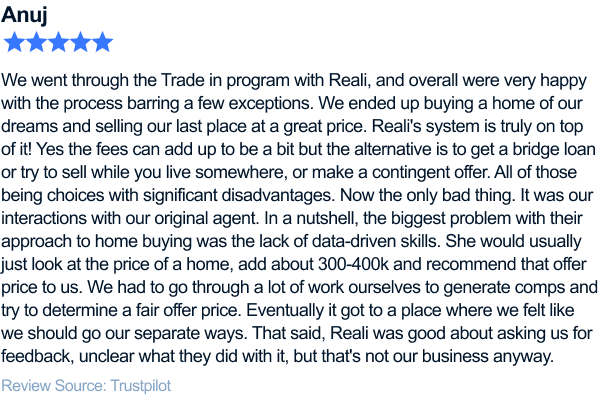 Lack of communication caused delays
This customer complains about Reali having "too many cooks in the kitchen" and being bounced around from person to person, when one dedicated contact would have helped patch these gaps in communication. Buyers and sellers who work with an agent from a traditional real estate brokerage are less likely to have this problem.
The customer was ultimately happy with Reali, but found the lack of communication in both the selling and lending process frustrating. For example, miscommunication about home inspection appointments delayed their sale. The client was also not impressed with Reali loans, saying they chose another lender to make the process go more smoothly, even though the other lender had worse rates.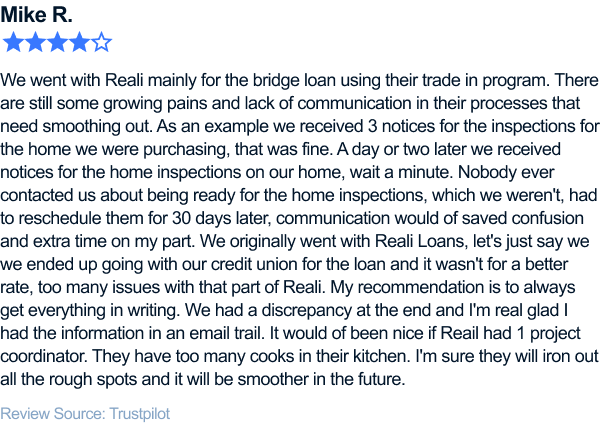 Reali Loans wasn't responsive
Again, lack of communication is the key complaint here, pointing to problems with Reali's use of a team rather than a single point of contact.
This Reali Loans customer felt that Reali didn't deliver on the promise of being more convenient than traditional lending services. The customer had to keep asking for status updates and nudging Reali along to complete their refinance.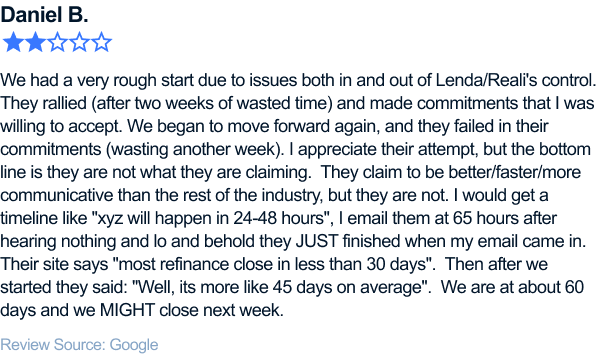 Customer didn't find value in Reali agent's help
Here again, Reali's business model of using salaried agents instead of commission-driven agents might explain the lack of motivation to go the extra mile for the customer.
This customer felt that their Reali agent wasn't providing the kind of expertise they expected from a realtor, such as a market analysis and a strategy for submitting a competitive offer. The reviewer felt as if they were paying full price for inadequate service.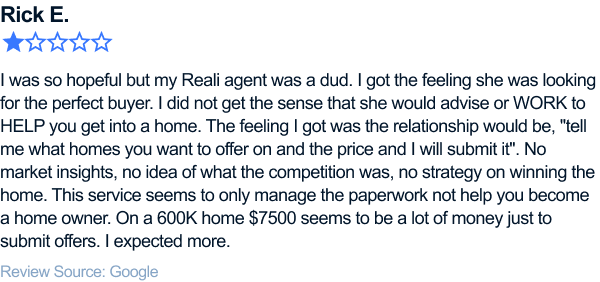 How does Reali work?
Trading your home in with Reali
Trading in your home with Reali's Buy Before You Sell program can be a good solution for if you have your heart set on a new home but can't afford to make an offer until you sell your old home.
Reali's backing will allow you to make a cash offer, giving you a better chance of making a winning bid in a competitive market. A cash offer is a huge advantage over other offers because the seller doesn't have to wait for your loan financing to come through before closing.
If you're using the trade-in service, you won't need to worry about asking the seller to wait for your old home to sell, which is called a buyer's contingency. Most sellers are used to getting offers with a buyer's contingency, so your cash offer will stand out.
The Reali home trade-in process, step by step
1. You start by getting pre-approved for a mortgage through Reali for your new home. A Reali Loan Officer will provide you with a pre-approval letter so you know what you can spend.

2. A local agent from Reali will visit your current home to take a look and come up with a selling strategy.

3. Next, you'll find new listings and make plans to tour homes. Your agent will help you decide on an appropriate offer when you find one that you like.

4. If your all-cash offer is accepted, you'll sign a contract with Reali. Reali will buy the home on your behalf, and you can move in and pay market-rate rent to Reali until the other home is sold.

5. Reali will help you stage, list, and sell your old home.

6. Finally, you'll secure a mortgage for your new home and buy it back from Reali. A Transaction Coordinator from Reali will help you with the paperwork and get you to closing.

🔍 Should I use the Reali app to search for homes?
Customer reviews of the Reali app are mixed. We recommend using the app along with other home listing sites like Zillow or Realtor.com to find homes to tour.

Some homebuyers say the app works great for scheduling home tours and communicating with their Reali agent. Other reviewers said they had trouble finding homes on the app and used other ways to find listings, then sent the listings to their agent to schedule a showing.

Things to watch out for
If you do trade-in your home with Reali, it seems like you'll have to manage a lot of the details and do a lot of follow-up yourself, which kind of defeats the purpose of using a supposedly "streamlined" service. Be prepared for this if you decide to use Reali. Other services, like Knock and Flyhomes, have a better reputation for customer service.
Reviews consistently mentioned customer confusion over paperwork during the closing process due to miscommunications with company reps. Make sure that you continually follow up with your contact at Reali to make sure they have everything they need for closing.
Trade-in timeline
Reali says its average transaction length is about 30 days, but the timeline ultimately depends upon how quickly you find a home to buy and how quickly your old home sells. Some reviews from customers mention that their timeline was closer to 45 days.
Buying with Reali
If you only need to buy a home, you can use Reali's Cash Offer service to enhance your offer by making it all cash, setting it apart from other bids using financing.
The fee for Reali's Cash Offer service is 0.5% of the home price, plus typical closing costs. But if you choose to go with Reali Loans for your mortgage, you'll get a 0.5% rebate, eliminating the fee. That said, Reali's Cash Offer program is less flexible than similar services.
Services like Knock and Ribbon can help you make cash offers and allow you to work with your own agent, arming you with a professional who's motivated to earn commission from your purchase.
Also, many customer reviews of Reali mention frustrations with miscommunication during the closing process.
Selling with Reali
You can list your home in the traditional way with Reali. Reali charges a 2.5% listing commission, which is comparable to California's average listing commission of 2.50%, so you won't save any money listing with Reali. Reali agents are employees, so they do a larger volume of transactions and might not be as dedicated to you as an agent working solely for commission.
You can find an agent dedicated to selling your home without paying full price. Our partners at Clever Real Estate match sellers with agents from well known brokerages like RE/MAX and Keller Willams who will sell your home for 1.5% commission or $3,000.
» SAVE: Get started with Clever today and save thousands when you sell your home!
How much does Reali cost?
We estimate that trading in your current home with Reali could cost up to 11% of the final sale price, while competitors like Knock and Flyhomes range from a maximum of 5–8.75% if you use all available discounts.
When using Reali's Buy Before You Sell service, you'll pay more than the 1% service fee. You'll also pay buyer closing costs, the listing agent commission on the home that you're selling, and rent for the new home until your old home sells.
Here is how much using Reali's Buy Before You Sell service would cost. (To keep things simple, we assumed both the old and new homes have a value of $600,000.)
Costs


Percentage


Cost on a $600,000 home


🤝 Service fee


1%


$6,000


💰Seller closing costs


1%*


$6,000


💰Buyer closing costs


1–2%*


$6,000–12,000


🧑‍💼Realtor commission


4–6%


$24,000–36,000


🏡Home rental costs (30 days)


1%†


$6,000


Total


8–11%


$48,000–66,000


*California average closing costs.
†Varies — Reali says it charges rent that is roughly equal to the eventual mortgage payment.

Other trade-in services operating in California, like Knock, allow you to use your own agent, which could potentially save you commission if you negotiate or use a discount broker.
The competition is more affordable
By comparison, trading the same two $600,000 homes would cost between
$47,950–53,950 (7.75–8.75% + a $1,450 flat fee) using Knock with a 1% commission agent.
Going with Flyhomes would cost between $39,000–84,000 (6–13% + $3,000–6,000 for rent) if you take advantage of its service fee rebate and closing cost credits by using its mortgage lender and agents.
Reali Loans
Reali offers mortgages with average rates through its lending arm, Reali Loans. You can go to its website to check out the current loan rates and estimated closing costs.
Customer reviews of Reali Loans reveal a lot of the same issues with other services at Reali: poor communication and confusion over the next step to take. If you choose to use Reali Loans for your mortgage lender or refinance, make sure that you keep in close contact with your loan officer to ensure you are completing each step on time.
Reali Loans provides direct mortgage lending services in five states. They operate in Arizona, California, Colorado, Texas, and Washington.
Reali Loans finances residential properties including single-family homes, townhomes, condominiums, and planned unit developments. Reali Loans does not offer mortgages for mobile homes or commercial properties. You can also refinance your mortgage through Reali.
Types of loans Reali Loans offers:
Conforming
High balance
Jumbo (see county loan limits, jumbo loans not available in TX)
Type of loans Reali Loans does not offer:
FHA
VA
USDA
ARMs
Subprime
HELOCs
Frequently asked questions about Reali
Which states is Reali available in?
Before writing this review, our team spent weeks studying each real estate trade-in service to compare each company across multiple axes. Our research process included:
Mystery shopping each company
Interviewing real estate experts
Conducting a spreadsheet analysis of each service provider's terms and fees