Orchard Real Estate: Reviews, Fees, and More
Written by Jon Stubbs
February 9th, 2023
11 minute read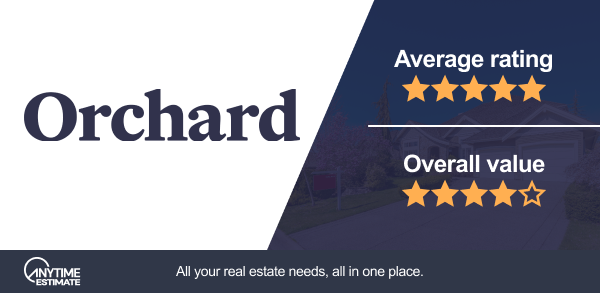 Orchard reviews | Costs | Competition | Alternatives | Is Orchard legit? | Locations | How does Orchard work? | Buying with Orchard | FAQs
Orchard lets you buy a new home before you sell your current one while avoiding paying two mortgages at once.
Orchard's Move First program — a home trade-in service — gives you the chance to buy before you sell, placing a strong offer on a new home. It can even help you win a home in a competitive market.
If you only want to buy, you can use the Buy with Orchard program to make a cash offer that is more likely to be accepted by the seller over a financed offer.
Orchard isn't the only home trade-in service available, but it has some unique benefits that set it apart from its competition.
For example, Orchard lets you live in your new home without making a rent payment if you use its Instant Equity program. The company has mostly five-star reviews from customers who praise its agents' responsiveness and knowledge. And if the home you're selling could use some work before it's ready to sell, Orchard will lend you money to repair it, interest free.
But there are some drawbacks. You can't choose your own realtor — you have to work with an Orchard agent. And while Orchard's services are convenient, it probably won't help you save any money. With the company's added service fees and rent, it's likely you'll end up paying more than you would in a traditional sale and purchase.
Orchard vs. the competition
Benefits of Orchard
Orchard is one of our top picks for real estate companies that help you buy before you sell. The company stands apart from competitors by allowing you to stay in your new home for 30 days without making a rent or mortgage payment. Other companies might charge you as much as $6,000 or even more for a more expensive home.
Orchard will also lend you money to fix up your old home before you list it through its Concierge service. This pays for things like painting and minor plumbing or electrical repairs.
Stay in your new home rent free and save thousands
One of Orchard's biggest benefits is the ability to stay in your new home without paying rent when using its standard Instant Equity program. This adds up to thousands of dollars in savings.
Nearly all home trade-in services require you to pay daily or monthly rent after you move into your new home before your old home sells. Some companies charge you a fixed rate per day, while others ask that you begin making the mortgage payment right away.
If you add on the optional Offer Boost to turn your offer into an all-cash offer, Orchard charges $50–150 per day — still much less than the rent other companies charge.
Here's how Orchard's rent compares to other top home trade-in services:
Rental cost on a $600,000 home
Orchard's Concierge service helps you get your home ready to show
Orchard's Concierge service will lend you money, interest free, to make repairs to your home before listing. You can use the Concierge service with Orchard's Move First program or the List with Orchard service if you're only selling.
There is no upfront fee to use the Concierge service, but the costs will be taken out of the sale proceeds once the home sells.
The Concierge service won't cover every kind of repair, but it will pay for many common issues, like interior and exterior painting, and minor repairs related to HVAC, electrical, roofing, and plumbing.
Orchard chooses the contractors for you. The company claims its negotiations with pre-approved contractors and vendors helps you save even more.
Most home trade-in companies don't offer to lend you money to fix up your old home. Knock is one of the only other companies to do so, providing an interest-free loan of up to $25,000. Just like Orchard, you pay it back using the proceeds from the sale.
Unlike Orchard, Knock allows you to choose your own contractor if you prefer. Knock also gives you the option to do DIY repairs, which is not possible with Orchard.
Orchard's costs compared to competitors
Orchard's fees for its Move First program are 6% of your home sale's price, comparable to using a traditional agent. Most other home trade-in services charge a service fee of 1–1.9% on top of traditional agent commission.
So Orchard's fee might be higher, but it already includes paying for the agents that will walk you through making an offer on your new home and help sell your old home.
There is potential for savings using other services, however. Both Knock and Homeward will waive their fees if you use their mortgage services. Plus, you can use your own agent with Knock and Homeward so you could potentially save even more if you use a discount agent.
The bottom line is Orchard's pricing structure is simpler than other services, but could end up being more expensive in the end because there's less room to customize services for savings.
However, some of that extra cost could be offset with Orchard's unique rent-free period.
Who should use Orchard?
Orchard is best for people buying in a competitive market and those trying to time the sale and purchase of a new home to avoid paying two mortgages at once. It's also a good solution if you're struggling to qualify for financing before selling your current home.
If you don't have a lot of cash on hand, you probably won't qualify for another mortgage until you sell the home you're living in. And of course, selling your home before you have another home to move into creates another set of problems.
Orchard solves these problems by giving you access to the equity ⓘ in your current home before you sell it, allowing you to make an offer on another home.
Orchard is also a good fit for people who are looking for a bit of flexibility in the type of offer they use. The Move First program has two options:
The Instant Equity option, which uses the equity from your home to make a down payment on the new home, or
Offer Boost, an add-on that turns the offer into all cash.
Cash offers are one of the fastest ways to close on a home, making them more attractive to sellers. If you use Offer Boost, you'll have to pay $50–150 per day in rent once you move into your new home.
Whether you use the standard Instant Equity offer or cash from Offer Boost, you'll be making a non-contingent offer on the home. This means you're not asking the seller for any favors, like waiting for your old home to sell or financing to come through. This will make your offer stand out to the seller as a simple and fast path to closing.
Using Move First without the Offer Boost all-cash offer should be sufficient in most markets, but it's a good option to have if you're in a market where homes are selling very quickly.
Orchard vs. the competition
Knock is a good alternative to Orchard if you like everything Orchard has to offer but would prefer to use your own agent instead.
Knock charges 1.25% plus $1,450 for its Buy Before You Sell trade-in service, and you'll begin paying your mortgage as soon as you move into your new home. You'll have to use Knock's mortgage service for your loan, meaning you won't be able to shop around for better rates.
Knock also provides an interest-free loan to fix up the house you're selling. It'll give you up to $25,000 you can pay back later from the proceeds of your home sale.
While there are some additional costs with Knock compared to Orchard, the real potential for savings by using Knock is in the ability to choose your own agent. You can work with a discount agent and end up saving on commission.
Our partners at Clever Real Estate pre-negotiate commission and will match you with an agent who can sell your home for just 1.5% in commission, leading to thousands of dollars in savings.
💰 Compare hand-picked agents, get incredible savings!
Find top-rated agents from local brokerages, and get pre-negotiated fees of just $3,000 or 1%.
Clever Real Estate's service is 100% free, with zero obligation.
Find an agent today.
Is Orchard legit?
Orchard is a legitimate real estate company that helps people buy a new home before they sell their old one. When you use Orchard to make an offer, Orchard actually fronts the money — so your offer is as good as cash to the seller.
Founded in 2017 as Perch, the company changed its name to Orchard in early 2020. [1] The company recently raised $100 million in funding in September 2021 and is now valued at over $1 billion. It plans to continue expanding into new markets in 2022.[2]
Where does Orchard operate?
Orchard's Move First is limited to select markets in six states: Colorado, Georgia, Maryland, North Carolina, Texas, and Virginia. The Buy with Orchard program is only available in Denver and select markets in Texas.
If you live in one of the states where Orchard operates, here are other services that are also available in your state, although local market availability may vary.
Orchard competitor availability by state
Orchard reviews from customers
Orchard has an average rating of 4.8 across 361 reviews.
The reviews for Orchard are overwhelmingly positive. Over 80% of the reviews on Trustpilot have five-stars. Customers praised the company for its convenience and maximizing the profits on the home they were selling. Most of the reviews are from customers who successfully bought and sold with Orchard. We were unable to find reviews from customers who tried to use Orchard but ultimately canceled.
Of the handful of negative reviews, we found a theme of customers who were displeased with the quality of renovation work done on their old home. A few negative reviews complained about the original home being listed for too little.
| Site | Average review |
| --- | --- |
| | 4.8 across 349 reviews |
| | 3.67 across 12 reviews |
| Weighted Avg. Rating | 4.8 across 361 reviews |
Customer was pleased with agent's negotiation skills
This customer appreciated their Orchard agent's knowledge and experience when looking at which offers to accept.

Orchard eased this customer's concerns
Even though they weren't originally sure that Orchard would live up to their expectations, in the end, this customer was pleased with the price Orchard got for the home they were selling.

Orchard's speed and responsiveness won this customer over
This home trader was happy with every aspect of Orchard's services, including buying, selling, and repairs to the old home. They were also pleased that Orchard was quick to answer any questions they had.

Customer felt Orchard undervalued their home
The majority of Orchard reviews are positive, but a few customers felt that Orchard didn't do a great job of pricing their old home or getting it ready for listing.
This review may be an outlier, but this customer felt that Orchard was more interested in getting paid quickly than waiting for a better offer. This is a reasonable concern, as Orchard has an interest in selling as quickly as possible because the proceeds for the old home pay for the loan to buy your new home.

Another reviewer said that Orchard wouldn't fix their roof, even though the damage was clearly noted by the buyer's inspector.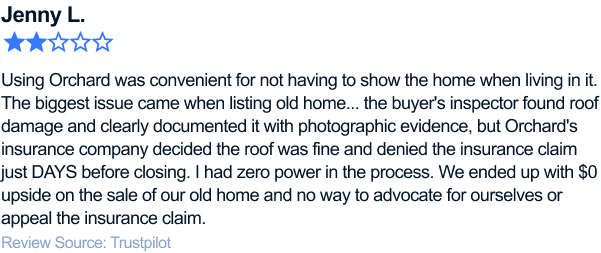 How does Orchard work?
Looking to close on a home in a competitive market before you sell your old house? Orchard's Move First program can help.
Here's how the Move First service works:
Step 1: Get pre-approved. Orchard will help you get pre-approved for a mortgage so you know how much you can afford. You can work with Orchard Home Loans or any other lender of your choice.

Step 2: Get a home assessment. Orchard will assess your current home's value. This will let you know how much of your current home's equity can be applied to your new home purchase.

Step 3: Go home shopping and make an offer. Work with an Orchard Home Advisor to shop around for homes. When you find one you like, Orchard will make a non-contingent offer, meaning there are no strings attached for the seller. If you're using Offer Boost, your offer will be upgraded to all cash.

Step 4: Move into your new home. Once the offer is accepted, you can start living in your new home. If you use the Instant Equity option, you won't pay rent. If you use Offer Boost to make the offer, you'll begin paying rent of about $50–150 per day.

Step 5: Sell your old home. Your Orchard agent will help you get the old home ready for the market. Once you sell your old home, you'll settle up with Orchard for any money owed for repairs.

Things to watch out for
Orchard's Move First is only available in select markets in the U.S. Even then, Orchard is particular about which homes it will buy and sell. To qualify, the home you're selling must be a single-family home built between 1920–2020 that's not currently on the market.
Your home must also have a minimum value for Orchard to sell it. These minimum values vary depending upon the location.
Orchard home criteria by location
| Location | Minimum home value |
| --- | --- |
| Atlanta, GA | $100,000 |
| Austin, TX | $150,000 |
| Charlotte, NC | $150,000 |
| Dallas-Fort Worth, TX | $150,000 |
| Denver, CO | $200,000 |
| Houston, TX | $150,000 |
| Montgomery County, MD | $300,000 |
| Northern Virginia | $300,000 |
| Raleigh-Durham, NC | $150,000 |
| San Antonio, TX | $150,000 |
How long does it take?
The pre-approval process and home valuation will take about one to two days to complete. From there, it's just a matter of how long it takes you to find a new home and then sell your old home.
Orchard claims that on average, the homes it has listed take about 10 days to sell. If your home doesn't sell within four months, Orchard will pay you the initial home valuation, what it calls the "instant equity" amount.
Orchard claims that 95% of its listings sell above the instant equity amount, however, so it's unlikely you would need to fall back on this guarantee.
Buying with Orchard
If you don't need to sell a home and only need to buy, Orchard can help you make an all-cash offer on a new home. Orchard charges 4% for this service, which is a little more than the 2.5–3% a typical buyer's agent would charge. But there is no fee for the buyer — this cost is paid for by the seller.
Buying with Orchard is only available in the following markets:
Austin, TX
Dallas-Fort Worth, TX
Denver, CO
Houston, TX
San Antonio, TX
Here's how it works:
Step 1: Find a home. Look for homes using Orchard's home search app or look on your own.

Step 2: Make an offer. An advisor will help you negotiate your offer, backed by Orchard's cash.

Step 3: Move into your new home. Move on your own timeline. If for some reason there is a delay in closing, Orchard will buy the home for you and then sell it back to you at no extra cost.

Selling with Orchard
You can also use Orchard as your listing agent if you only need to sell. At 6%, it charges what a typical listing agent would charge to sell your home.
But Orchard gives you a couple of advantages over a typical agent. For one, you have Orchard's cash offer to fall back on if your home doesn't sell on the open market. Orchard charges a 1% fee to use this offer instead of waiting to sell.
Additionally, you can use Orchard's Concierge service to borrow money for repairs to fix up your home before selling. This interest-free loan can be paid back once you sell.
How much does Orchard cost?
» Only interested in buying with an Orchard cash offer? Jump to Buy with Orchard fees
Cost of trading homes with Orchard's Move First
Using Orchard to buy a home before you sell will cost about 9–14%.
Orchard's Move First program
| Costs | Percentage | Cost on a $600,000 home |
| --- | --- | --- |
| Service fee | 6% | $36,000 |
| Seller closing costs | 1–3% | $6,000–18,000 |
| Buyer closing costs | 2–5% | $12,000–30,000 |
| Total | 9–14% | $54,000–84,000 |
This assumes that you use the Instant Equity option and won't have to pay rent on the new home. If you use Orchard's Offer Boost to put down an all-cash offer, you'll pay $50–150 per day in rent until the old home sells.
To compare, trading the same two $600,000 homes with Flyhomes would cost between $39,000–84,000 (6–13% + $3,000–6,000 for rent) if you take advantage of its service fee rebate and closing cost credits by using its mortgage lender and agents.
Other competitors who allow you to use your own agent provide an opportunity to save even more by finding an agent with less expensive commission.
Using Knock with a traditional agent would cost between $53,950–98,950 (8.75–16.25% + $1,450), including rent. But if you use an agent with 1% commission, that cost goes down to $41,950–86,950 (6.75–14.25% + $1,450).
Using Homeward with a traditional agent would cost $57,600–99,600 (9.6–16.6%). Using a 1% discount agent would bring that cost down to $34,200–76,200 (5.7–12.7%).
Want to learn more about working with a discount agent? Our partners at Clever can help you learn about your options.
👋 Next Steps: Talk to an expert!
If you're weighing your options for buying or selling a house, Clever can help!
Our fully licensed concierge team is standing by to answer questions and provide free, objective advice on getting the best outcome with your sale or purchase.
Ready to get started?
Give us a call at 1-833-2-CLEVER or
click to learn more
. Remember, this service is 100% free and there's never any obligation.
Cost of using Buy with Orchard
You won't pay any additional fees to use the Buy with Orchard service. Just like a traditional agent, Orchard charges a commission for its buying service, but this will be paid by the seller.
Other cash offer services charge service fees, but a few of them are able to be offset to zero if you use that company's mortgage lending service.
Company


Fees


Total fees for $600K home


Orchard


0%


$0


Knock


$1,450


$1,450


Flyhomes


1%*


$6,000


Homeward


1.9%*


$11,400


*These fees are waived if you use the company's lender.

FAQs about Orchard
Is Orchard a legitimate company?
Yes – Orchard is a legitimate brokerage that allows clients to buy their new home before they sell their old one. It also helps clients make all-cash offers on homes. Find out more about Orchard's services.
What is an Orchard home?
Orchard is a brokerage and mortgage lender that offers home trade-in services and cash offers for clients. Orchard buys homes on behalf of its clients using cash, then sells the homes back to the clients. Orchard also buys homes from trade-in clients if the home doesn't sell on the open market, hoping to sell the home to another buyer. Learn more about Orchard.
Where is Orchard based?
Orchard is based in Austin, TX. It currently offers home buying and selling services in Atlanta, Austin, Charlotte, Dallas-Fort Worth, Denver, Houston, Montgomery County (Maryland), Northern Virginia, Raleigh-Durham, and San Antonio. Read more about where Orchard serves customers.
What is a power buyer in real estate?
A power buyer is a company, like Orchard, that fronts the cash for customers to make cash offers on homes, providing an attractive offer for the seller. The customer then buys the home from the power buyer using a traditional mortgage. Find out more about Orchard.
When was Orchard founded?
Why did Perch become Orchard?
Originally called Perch, the company rebranded as Orchard in 2020. According to co-founder and CEO Court Cunningham, the name Orchard reflects "warmth, friendliness, and humanity."Learn more about Orchard.
Before writing this review, our team spent weeks studying each real estate trade-in service to compare each company across multiple axes. Our research process included:
Mystery shopping each company
Interviewing real estate experts
Conducting a spreadsheet analysis of each service provider's terms and fees