HUD Median Income For Pennsylvania Counties
Written by

Anytime Estimate
October 21st, 2021
2 minute read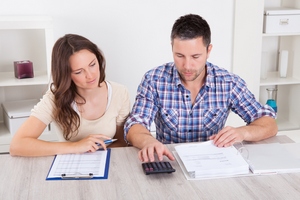 Did you know that many Pennsylvania banks offer special financing for home buyers whose income is at or below the median household income for the respective Pennsylvania County?

It's true, if your household income is at or below the median income limits below, you should call the banks in your area to see if you're eligible for special financing. These loans are commonly called CRA loans (Community Reinvestment Act). Many mortgage companies do not require that you're a first-time home buyer.

Both the Federal National Mortgage Association (Fannie Mae) and the Federal Home Loan Mortgage Corporation (Freddie Mac) provide special financing for first-time home buyers with low to moderate incomes.
Fannie Mae's program is called the My Community Mortgage® and Freddie Mac offer the Home Possible mortgage®. These mortgage loans are designed to make it easier for families to become homeowners.

Both programs have lower down payments, easierdebt to income ratios, reduced monthly mortgage insurance, andseller assist options to make it easier to qualify for a home loan.

Freddie Mac and Fannie Mae do not lend directly to prospective home buyers but work with "approved banks and mortgage brokers"
2021 HUD MEDIAN INCOME (80%)
Use area income for theHomeReady™ loan program.
| County Name | Median Area Income | 1 person | 2 person | 3 person | 4 person | 5 person | 6 person | 7 person |
| --- | --- | --- | --- | --- | --- | --- | --- | --- |
| Adams County | 80,500 | 45,650 | 52,200 | 58,700 | 65,200 | 70,450 | 75,650 | 80,850 |
| Allegheny County | 84,800 | 47,500 | 54,300 | 61,100 | 67,850 | 73,300 | 78,750 | 84,150 |
| Armstrong County | 70,100 | 38,150 | 43,600 | 49,050 | 54,450 | 58,850 | 63,200 | 67,550 |
| Beaver County | 84,800 | 47,500 | 54,300 | 61,100 | 67,850 | 73,300 | 78,750 | 84,150 |
| Bedford County | 62,300 | 36,500 | 41,700 | 46,900 | 52,100 | 56,300 | 60,450 | 64,650 |
| Berks County | 82,200 | 46,050 | 52,600 | 59,200 | 65,750 | 71,050 | 76,300 | 81,550 |
| Blair County | 70,100 | 38,150 | 43,600 | 49,050 | 54,450 | 58,850 | 63,200 | 67,550 |
| Bradford County | 67,000 | 37,550 | 42,900 | 48,250 | 53,600 | 57,900 | 62,200 | 66,500 |
| Bucks County | 94,500 | 52,950 | 60,500 | 68,050 | 75,600 | 81,650 | 87,700 | 93,750 |
| Butler County | 84,800 | 47,500 | 54,300 | 61,100 | 67,850 | 73,300 | 78,750 | 84,150 |
| Cambria County | 65,500 | 36,700 | 41,950 | 47,200 | 52,400 | 56,600 | 60,800 | 65,000 |
| Cameron County | 58,500 | 36,500 | 41,700 | 46,900 | 52,100 | 56,300 | 60,450 | 64,650 |
| Carbon County | 81,900 | 45,850 | 52,400 | 58,950 | 65,500 | 70,750 | 76,000 | 81,250 |
| Centre County | 87,900 | 49,250 | 56,250 | 63,300 | 70,300 | 75,950 | 81,550 | 87,200 |
| Chester County | 94,500 | 52,950 | 60,500 | 68,050 | 75,600 | 81,650 | 87,700 | 93,750 |
| Clarion County | 61,700 | 36,500 | 41,700 | 46,900 | 52,100 | 56,300 | 60,450 | 64,650 |
| Clearfield County | 60,600 | 36,500 | 41,700 | 46,900 | 52,100 | 56,300 | 60,450 | 64,650 |
| Clinton County | 64,500 | 36,500 | 41,700 | 46,900 | 52,100 | 56,300 | 60,450 | 64,650 |
| Columbia County | 75,600 | 38,650 | 44,200 | 49,700 | 55,200 | 59,650 | 64,050 | 68,450 |
| Crawford County | 66,000 | 37,000 | 42,250 | 47,550 | 52,800 | 57,050 | 61,250 | 65,500 |
| Cumberland County | 84,900 | 47,550 | 54,350 | 61,150 | 67,900 | 73,350 | 78,800 | 84,200 |
| Dauphin County | 84,900 | 47,550 | 54,350 | 61,150 | 67,900 | 73,350 | 78,800 | 84,200 |
| Delaware County | 94,500 | 52,950 | 60,500 | 68,050 | 75,600 | 81,650 | 87,700 | 93,750 |
| Elk County | 69,800 | 39,100 | 44,700 | 50,300 | 55,850 | 60,350 | 64,800 | 69,300 |
| Erie County | 65,000 | 38,100 | 43,550 | 49,000 | 54,400 | 58,800 | 63,150 | 67,500 |
| Fayette County | 84,800 | 47,500 | 54,300 | 61,100 | 67,850 | 73,300 | 78,750 | 84,150 |
| Forest County | 47,000 | 36,500 | 41,700 | 46,900 | 52,100 | 56,300 | 60,450 | 64,650 |
| Franklin County | 73,200 | 41,700 | 47,650 | 53,600 | 59,550 | 64,350 | 69,100 | 73,850 |
| Fulton County | 64,600 | 36,500 | 41,700 | 46,900 | 52,100 | 56,300 | 60,450 | 64,650 |
| Greene County | 70,300 | 39,350 | 44,950 | 50,550 | 56,150 | 60,650 | 65,150 | 69,650 |
| Huntingdon County | 62,000 | 36,500 | 41,700 | 46,900 | 52,100 | 56,300 | 60,450 | 64,650 |
| Indiana County | 65,700 | 36,800 | 42,050 | 47,300 | 52,550 | 56,800 | 61,000 | 65,200 |
| Jefferson County | 61,600 | 36,500 | 41,700 | 46,900 | 52,100 | 56,300 | 60,450 | 64,650 |
| Juniata County | 68,200 | 38,200 | 43,650 | 49,100 | 54,550 | 58,950 | 63,300 | 67,650 |
| Lackawanna County | 70,600 | 39,550 | 45,200 | 50,850 | 56,500 | 61,050 | 65,550 | 70,100 |
| Lancaster County | 83,000 | 46,500 | 53,150 | 59,800 | 66,400 | 71,750 | 77,050 | 82,350 |
| Lawrence County | 62,400 | 36,900 | 42,150 | 47,400 | 52,650 | 56,900 | 61,100 | 65,300 |
| Lebanon County | 76,200 | 42,700 | 48,800 | 54,900 | 60,950 | 65,850 | 70,750 | 75,600 |
| Lehigh County | 81,900 | 45,850 | 52,400 | 58,950 | 65,500 | 70,750 | 76,000 | 81,250 |
| Luzerne County | 70,600 | 39,550 | 45,200 | 50,850 | 56,500 | 61,050 | 65,550 | 70,100 |
| Lycoming County | 72,300 | 38,150 | 43,600 | 49,050 | 54,450 | 58,850 | 63,200 | 67,550 |
| McKean County | 62,000 | 36,500 | 41,700 | 46,900 | 52,100 | 56,300 | 60,450 | 64,650 |
| Mercer County | 66,600 | 37,350 | 42,650 | 48,000 | 53,300 | 57,600 | 61,850 | 66,100 |
| Mifflin County | 57,300 | 36,500 | 41,700 | 46,900 | 52,100 | 56,300 | 60,450 | 64,650 |
| Monroe County | 81,500 | 45,650 | 52,200 | 58,700 | 65,200 | 70,450 | 75,650 | 80,850 |
| Montgomery County | 94,500 | 52,950 | 60,500 | 68,050 | 75,600 | 81,650 | 87,700 | 93,750 |
| Montour County | 78,100 | 43,750 | 50,000 | 56,250 | 62,500 | 67,500 | 72,500 | 77,500 |
| Northampton County | 81,900 | 45,850 | 52,400 | 58,950 | 65,500 | 70,750 | 76,000 | 81,250 |
| Northumberland County | 65,700 | 36,800 | 42,050 | 47,300 | 52,550 | 56,800 | 61,000 | 65,200 |
| Perry County | 84,900 | 47,550 | 54,350 | 61,150 | 67,900 | 73,350 | 78,800 | 84,200 |
| Philadelphia County | 94,500 | 52,950 | 60,500 | 68,050 | 75,600 | 81,650 | 87,700 | 93,750 |
| Pike County | 78,700 | 44,200 | 50,500 | 56,800 | 63,100 | 68,150 | 73,200 | 78,250 |
| Potter County | 59,700 | 36,500 | 41,700 | 46,900 | 52,100 | 56,300 | 60,450 | 64,650 |
| Schuylkill County | 68,400 | 38,300 | 43,800 | 49,250 | 54,700 | 59,100 | 63,500 | 67,850 |
| Snyder County | 70,300 | 39,350 | 44,950 | 50,550 | 56,150 | 60,650 | 65,150 | 69,650 |
| Somerset County | 63,900 | 36,500 | 41,700 | 46,900 | 52,100 | 56,300 | 60,450 | 64,650 |
| Sullivan County | 64,000 | 36,500 | 41,700 | 46,900 | 52,100 | 56,300 | 60,450 | 64,650 |
| Susquehanna County | 66,700 | 37,350 | 42,700 | 48,050 | 53,350 | 57,650 | 61,900 | 66,200 |
| Tioga County | 63,000 | 36,500 | 41,700 | 46,900 | 52,100 | 56,300 | 60,450 | 64,650 |
| Union County | 73,200 | 41,000 | 46,850 | 52,700 | 58,550 | 63,250 | 67,950 | 72,650 |
| Venango County | 63,100 | 36,500 | 41,700 | 46,900 | 52,100 | 56,300 | 60,450 | 64,650 |
| Warren County | 62,300 | 36,500 | 41,700 | 46,900 | 52,100 | 56,300 | 60,450 | 64,650 |
| Washington County | 84,800 | 47,500 | 54,300 | 61,100 | 67,850 | 73,300 | 78,750 | 84,150 |
| Wayne County | 71,500 | 40,050 | 45,800 | 51,500 | 57,200 | 61,800 | 66,400 | 70,950 |
| Westmoreland County | 84,800 | 47,500 | 54,300 | 61,100 | 67,850 | 73,300 | 78,750 | 84,150 |
| Wyoming County | 70,600 | 39,550 | 45,200 | 50,850 | 56,500 | 61,050 | 65,550 | 70,100 |
| York County | 81,800 | 45,850 | 52,400 | 58,950 | 65,450 | 70,700 | 75,950 | 81,200 |
SOURCE:
Department of Housing and Urban Development