HUD home meaning
Written by

Anytime Estimate
February 9th, 2022
8 minute read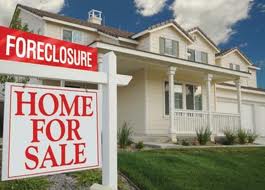 A HUD home (or condo) is a one to four-unit structure that was funded with an FHA-insured loan.
When a homeowner fails to make his or her monthly mortgage payments, the lender will foreclose on the property. After the bank reclaims the property, it will file a claim with the Federal Housing Administration (FHA) for compensation for the loss. In other words, HUD/FHA will purchase the home from the bank and take possession of it.
The Federal Housing Administration (FHA) is a subsidiary of the Department of Housing and Urban Development (HUD). Following HUD's acquisition of the property, the FHA will try to sell it via an online auction. Foreclosed FHA houses are often referred to as "FHA HUD homes."
The following are the steps to purchasing a HUD house through the HUD home store:
Step #1 - Get pre-approved!
When you submit an offer to HUD for an FHA foreclosure, you must include a pre-approval letter from a bank or mortgage company stating that you are pre-approved for a mortgage. If you're making a cash offer, HUD requires a statement from a financial institution stating that the bidder has the monetary assets to buy the property. Obviously, aggressively seeking a HUD home before receiving a pre-approval letter makes little sense.
The mortgage broker (or banker) will determine the maximum sales price that you qualify for. The mortgage broker or loan officer will give you an estimate for the down payment, closing costs and mortgage payment. The mortgage lender will also review your credit report and credit score.
Interesting in shopping for HUD homes? Get pre-approved now!
Step #2 - Find a HUD approved real estate agent
Only offers from licensed real estate brokers and agents are accepted by HUD. If you wish to employ your closest friend who sells real estate, he or she must seek approval from HUD. It may take up to 6 weeks for his or her application to be approved.
You can locate HUD approved real estate agents on the HUD web site: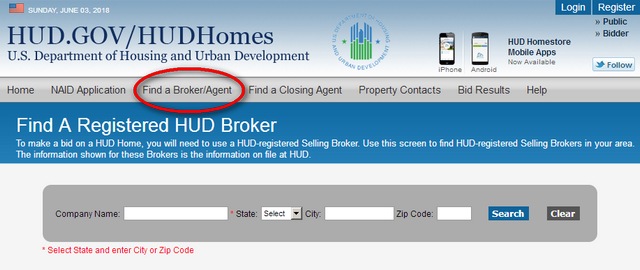 Step #3 - Find HUD homes at the HUD Home Store
After obtaining a pre-approval letter and finding an approved real estate agent, you are ready to explore the HUD foreclosures.
Go to the HUD Home Store and browse for HUD homes: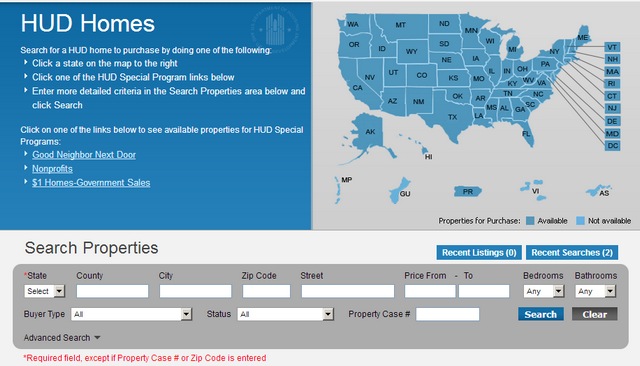 Step #4 - Which HUD home?
After running a search, you will notice that HUD provides the listing period. But what does that mean?
HUD has four sales categories.
HUD Real Estate Owned (REO) Properties on the HUD Homestore website may be listed in one of four listing periods:
Period of the Lottery ("Lottery")
Period of Exclusive Listing ("Exclusive")
Extended Listing Period ("Extended") is a term used to describe a period of time during which
Government Sales ("Dollar") - Dollar Home
Period of the Lottery
Lottery Period
The Lottery Period is a direct sale period for HUD REO Properties during which Governmental Entities, HUD-approved Nonprofits, and Good Neighbor Next Door (GNND) participants may make bids equivalent to the list price.

Period of Exclusive Listing
Only qualified Governmental Entities, HUD-approved Nonprofits, and Owner-Occupant Buyers are allowed to make bids on REO homes during the Exclusive Listing Period.

Extended Listing Period
The Extended Listing Period is a competitive listing period in which all bidders are eligible to make bids on HUD REO properties.

Government Sales of Dollar Homes
The Dollar Homes-Government Sales Program is a direct sales program that allows some HUD REO properties to be purchased by qualified Governmental Entities.
SOURCE: HUD Knowledgebase
Step #5 - Is the HUD property eligible for an FHA loan?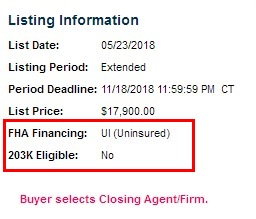 Insured HUD Homes -Insured homes are eligible for an FHA mortgage.
Insured with escrow - HUD homes that are insured with escrow need less than $5,000 in renovations to make them livable. HUD requires that the cost of repairs be put in an escrow account before the property may be bought (an escrow account is a fancy name for a bank account).
After settlement, the house buyer is responsible for paying for repairs from the escrow account. The property buyer loses their repair escrow money if the repairs are not performed. Ask your lender or settlement company whether they will enable you to establish an escrow account if you wish to purchase a HUD home with escrow.
Uninsured HUD Homes - Uninsured HUD houses are those that have been judged by HUD to need more than $5,000 in repairs. Because of the extensive renovations, many homes do not qualify for a standard 203B FHA loan. If the house is classified as suitable for a 203k loan, the FHA 203K loan may be an alternative to purchasing an uninsurable property. A 203k loan is a kind of rehab loan.
Step #6 - I found a house I want to bid on, now what?
Owner Occupant: Owner occupants are those who have not purchased an FHA foreclosure in the last two (2) years. During the Exclusive and Extended periods, they have the option of bidding on homes. Owner occupiers have priority over government agencies and charitable organizations in the bidding process for Exclusive and Extended listings.
The FHA makes no guarantees or warranties about the condition of its homes, and it will not cover any problems or repairs. HUD highly advises all potential purchasers to have a professional inspection performed before making a purchase offer, since the new owner will be responsible for any repairs that are required.

All FHA-owned houses are sold "as is." The real estate agent places your house bid online. The agent must submit a mortgage preapproval letter from the mortgage firm attesting to the likelihood of obtaining a mortgage, according to HUD (FHA).

If you want to buy the house outright (without a loan), the agent will need evidence of your offer. The bid must be submitted using HUD's sales contracts. In order to close, homebuyers must meet HUD's requirements and timelines.

When you make a bid, the agent will ask for a $1,000 or $500 earnest money deposit, depending on the amount of the offer. Your deposit money will be refunded to you if your offer is rejected. You have 24 hours from the time the FHA approves your offer to submit the signed sales contract and any supporting papers to the HUD office.

Following that, a settlement date is determined. This usually takes 30 to 60 days after the contract has been approved. If the HUD office does not receive all of the necessary documents within 24 hours, the house will be re-bid.
Step #7 - Important contingencies with your offer
Home inspections for HUD homes -The FHA makes no guarantees or warranties about the condition of its homes, and it will not cover any problems or repairs. HUD highly advises all potential purchasers to have a professional inspection performed before to making a purchase offer, since the new owner will be responsible for any repairs that are required. All FHA-owned houses are sold "as is."

Any repairs to the property are not the responsibility of HUD.

As a consequence, the buyer should perform a visual inspection prior to placing an offer. After HUD has authorized and signed the deal, the buyer should have a professional house inspection performed and utilities switched on. The buyer has 15 days after contract acceptance to activate utilities and schedule a home inspection with the property's Field Service Manager (FSM).
HUD paid closing costs - Do you need HUD to pay a percentage of your closing costs, also known as seller assistance? If so, HUD will pay up to 3% of the purchase price, provided that the closing costs are reasonable and customary in the jurisdiction where the property is located.
Earnest Money Deposit - The bidder must submit an earnest money deposit to HUD. A cashier's check, money order, or other certified money must be used as earnest money. After the bid is accepted, the earnest money check should be sent with the sales contract.
If HUD approves the offer, the earnest money deposit will be paid to the settlement firm:
$1,000 for offers greater than $50,000,
$500 for offers $50,000 or less,
50% of the Listing Price for Vacant Lots
Step #8 - How much should I bid?
You may be competing with other home buyers and investors if the home is in the extended listing period. It's an agonizing decision. Should you offer full price or make a lower offer? It's a tough decision. You should make your offer with the advice of your real estate agent. HUD HomeValue.com offers a HUD bid calculator to help you with your offer. HUD homes usually sell for 85% – 88% of the asking price.
HUD Homes: Frequently Asked Questions
Q. Are buyers allowed to select their own settlement company after buying a HUD-owned property?
Buyer(s) may select a settlement company, provided the company meets HUD's closing agent requirements.
• Click on the appropriate state and locate the property
• Click on the Property Case Number
• Select the Agent Info Tab
Q. Are there any restrictions on how many HUD Homes an investor may buy?
A. HUD does not limit the number of HUD real estate owned properties, an investor can purchase. Investors can only bid on available properties during the Extended Listing Period.
Q. Can a buyer cancel the sales contract for a HUD home based on the results of a home inspection?
A. The buyer(s) has 15 Days after HUD ratifies the sales contract to access the property to conduct any tests, inspections, or risk assessments at their expense. The buyer may terminate their obligation to purchase the house and request a refund of the earnest money deposit prior to the expiration of the inspection contingency period.
The buyer(s) must provide the asset manager: written notice of its withdrawal from the sales contract; and a copy of a home inspection report identifying any serious condition(s) or problem(s) with the property that were not previously disclosed or corrected, or documentation of the presence and/or condition of lead-based paint or lead-based paint hazards.
Q. Is it possible to buy a HUD home for a dollar?
A. Individuals may not purchase a home under the Dollar Homes Government Sales Program.The dollar-home program is a direct sales program through which permits eligible Governmental Entities to purchase certain HUD Real Estate Owned (REO) Properties for one dollar.The program is designed to stimulate neighborhood revitalization and create housing for families in need.
Q. Can investors buy HUD homes?
A. Yes! During the first 10 days that a FHA foreclosure is listed for sale, only owner-occupants are permitted to place bids; if a successful bid is not accepted by the time the initial priority period has elapsed, bidding is opened to investors as well.
Q. Is it possible to rent or "rent-to-own" a HUD house?
A. HUD houses are offered through the HUD real estate owned process to individuals and families interested in buying a home. HUD does not generally rent homes and does not have a rent-to-own program.
Q. Can first-time home buyers buy HUD homes?
A. Yes. Get pre approved by a good lender and then find a qualified real estate agent to handle the transaction.
Q. Can investors buy HUD homes?
A. Yes, see above.
Q. Do you have to pay closing costs on HUD homes?
A. Yes.
Q. Is there a down payment for HUD homes?
A. The word down payment usually refers to a mortgage. If you are using a mortgage to finance the purchase, you may need a down payment. When you bid on a HUD home, you are required to pay an earnest money deposit with your offer. If you do not win the bid, the deposit is returned.