Home buyers of Pittsburgh
Unfortunately, the Pittsburgh Home Ownership Program (PHOP) is temporarily closed. Fortunately, the State of Pennsylvania has terrific loan programs for first and non-first-time home buyers, including closing cost/down payment assistance. Read more
City of Pittsburgh first-time home buyer program requirements
Eligibility
You must own and occupy the City of Pittsburgh home. It may have 1 to 4 residential units. Your income and the purchase price must not exceed the limits. If you are purchasing in a program area you must be either a first-time homebuyer or haven't owned a home in the past three years. The borrower will also have to pay approximately a $300 fee for an application and a credit report. If you receive a Down Payment Closing Cost Assistance Grant, you will need to attend a home buyer's education class.
Occupancy
You must occupy the property purchased as a primary residence - no investors
Mortgage Limit

| | |
| --- | --- |
| 1 - Unit | $248,900 |
| 2 - Units | $280,340 |
| 2 - Units | $340,600 |
| 4 - Units | $393,000 |
Maximum Sales Price - Approximately $298,481
Mortgage Program - FHA
Minimum Down Payment - 3 1/2% (FHA)
Income qualification
You must be a first-time home buyer or not owned a home within the previous three years and meet the household income limits in non-targeted area.
Term - 30-years only
Eligible Areas - All areas of the City of Pittsburgh
Property Types
Must be a single-family residence. Condominiums, townhouses, and mobile homes permanently affixed to a Borrower's individually owned lot are eligible. Houses that include rental space or commercial space are ineligible.
Home buyer counseling
Participants' maybe required to obtain pre-purchase credit counseling (Homebuyer Education Counseling). A Certificate of Completion must be submitted to the mortgage company to be made a part of the Borrower(s) loan file. An acceptable Certificate of Completion may be obtained by the Borrower(s) from a PHFA or HUD certified counseling agency. Participants will also be required to meet with a Counselor for a one on one counseling session to go over budget, credit, mortgage financing, and home ownership responsibilities. The counseling session will last a few hours.
City of Pittsburgh closing cost and down payment assistance
Participants in the First-Time Homebuyer Program may qualify for up to a maximum of $3,000 in Closing Cost and Down Payment Assistance Program.
Targeted Area Homebuyers Program
Prospective home buyers in the following census areas are not required to be first-time home buyers. All other requirements of the PHOP Program are applicable.

In target neighborhoods, there are no income limits and you do not have to be a first-time home buyer!.
Maximum Sales Price - Approximately $364,810
TARGET NEIGHBORHOODS
Allegheny Center
Central Northside (Part)
Garfield (Part)
Manchester (Part)
Allentown (Part)
Central Oakland
Glen Hazel
Middle Hill
Arlington (Part)
Chateau
Hazelwood (Part)
North Oakland (Part)
Arlington Heights
Crawford Roberts
Homewood North (Part)
Northview Heights
Bedford Dwellings
East Hills
Homewood South
Perry South (Part)
Bluff
East Liberty
Homewood West
Spring Hill South
Brighton Heights (Part)
East Liberty (Part)
Knoxville (Part)
St.Clair
California Kirkbride
Fairywood
Larimer
Terrace Village
Central Lawrenceville (Part)
Fineview (Part)
Lincoln-Lemington-Belmar (Part)
West Oakland (Part)
Upper Hill (Part)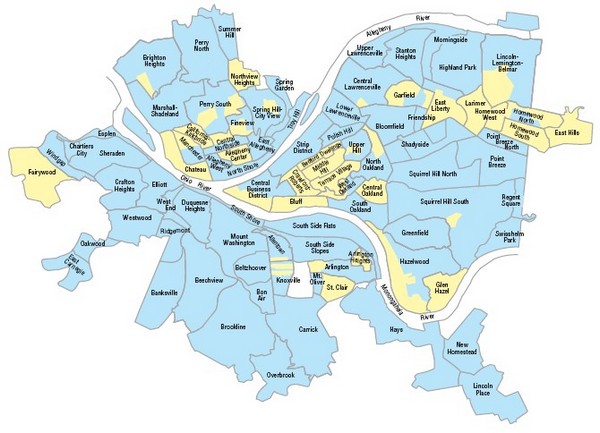 Related Content