How much down payment for a rental property?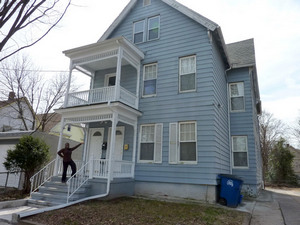 Now is the time to buy a one to four-unit investment or rental property. Interest rates are at an all time low. And unfortunately, due to the number of foreclosures, you might be able to purchase a great investment property at an affordable price.

According to Warren Buffett, "Opportunities come infrequently. When it rains gold, put out the bucket, not the thimble."

Purchasing an investment (rental) property is not unlike purchasing a home; the rules are just a bit tighter.
Investment-property minimum down payment
The government backed loans, FHA, VA, and the USDA loan programs do not permit investment financing, however, the Federal National Mortgage Association, better known as Fannie Mae provides funding to participating lenders for investment properties. The minimum down payment requirement for investment loans that are underwritten by an automated underwriting is 15% for a single-family dwelling. Two to four-unit dwellings require a 25% down payment. Down payments less than 20% will require private mortgage insurance (PMI).
SOURCE: Fannie Mae Eligibility Matrix
Manually underwritten down payment
The down payment requirement for investment mortgages that are manually underwritten is determined by the applicant's debt to income ratio and credit score. This calculator will calculate the minimum down payment.
| Debt to Income | 36% (or less) | 36% (or less) | 45% (or less) | 45% (or less) |
| --- | --- | --- | --- | --- |
| Credit Score | 640 | 680 | 680 | 700 |
| Minimum Down Payment Percentage | 25% | 10% | 25% | 10% |
Minimum reserves
Fannie Mae requires the equivalent of 6 mortgage payments in reserve post closing/settlement
Seller paid closing costs (seller assist)
Fannie Mae will permit the seller to pay up to 2% of the sales price to the investor's closing costs. The seller assistance can take the edge off the private mortgage insurance with down payments less than 20%.
Frequently Asked Questions About Second Home Mortgages
Q. Are interest rates higher for rental properties?
A. Interest rates are higher for investment properties because there is more risk of default
Q. How many investment properties can I own?
A. Fannie Mae will permit as many as 10 financed investment properties, however, you will have to meet a long list of requirements to be eligible for the 10-mortgage limit. In reality, the limit is 4-investment properties.
Q. What are the interest rates for investment properties?
A. Investment properties pose a greater risk for lenders. A borrower who is dealing with financial difficulties is more likely to default on an investment property loan than their personal residence. Because of the risk, interest rates and private mortgage insurance premiums for down payments less than 20% is somewhat higher. The interest rate on investment properties is about .50% higher than owner occupied interest rates.
Q. Why are interest rates higher for investment properties?
A. As stated previously, there's more risk to the lender. The higher the risk, the greater the interest rate.
Q. What is an investment property?
A. An investment property is real property that is purchased to produce revenue through appreciation or rental income.